Linde BR1411 Heavy-Duty Forklift Specs
---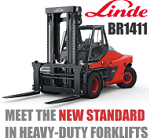 Linde Material Handling has a history of building the world's more reliable, productive and least costly to own forklifts, and the BR1411 is no exception. Linde listened to operators and owners, then put the engineers on a task to build a forklift that met all the requirements and then some, of the most demanding material handling applications they could find. Below are just a few of the features and standard equipment of the BR1411.
Download the Spec Sheet and Brochure to learn more


Operator's Compartment

Maximized comfort cab and adjustable steering column

IFM Color Display 4.3″ high resolution

Optional 7″ high resolution color display with rotary multi-function interface

Forward Tilt Cab

Major components can be reached rapidly and easily by tilting the cab forward

Maximized access is possible by tilting the engine cooling system, allowing engine and transmission removal as a single unit

Easy service access from both sides of the forklift

Unique All-around Visibility

Excellent through the mast visibility due to an optimized seating position

The armored glass roof section provides excellent visibility of the elevated load

Superb rear visibility guaranteed by wide rear window and the unique Linde "Clear View" deck incorporating a flush mounted cooling system and the Porsche designed counterweight.

For more information or a quote on the BR1411, please contact us or give us a call directly at 866-393-9833.